Improve your experience. We are very sorry but this website does not support Internet Explorer. We recommend using a different browser that is supported such as Google Chrome or Mozilla Firefox.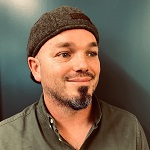 Qualifications
Certified Passive House Tradesperson
Richard put his tools down and joined Pro Clima NZ in 2014 with a passion to bring his 20 years of industry experience from Europe, South America and around the world to New Zealand's building sector. His position as Regional Sales Manager & Technical Sales Support allows him to provide support in the Taranaki, Whanganui and Nelson Marlborough regions to architects, designers and builders with his comprehensive knowledge in designing performance-based envelopes and on-site builder training. He's working with other industry professionals from his office in Whanganui to further support the ongoing growth in education and skills in the community toward more healthy homes in the regions.
When Richard's not onsite training or at the pub discussing detailing, you will find him with his family up a river, at the beach or with tools in hand renovating or barbecuing.